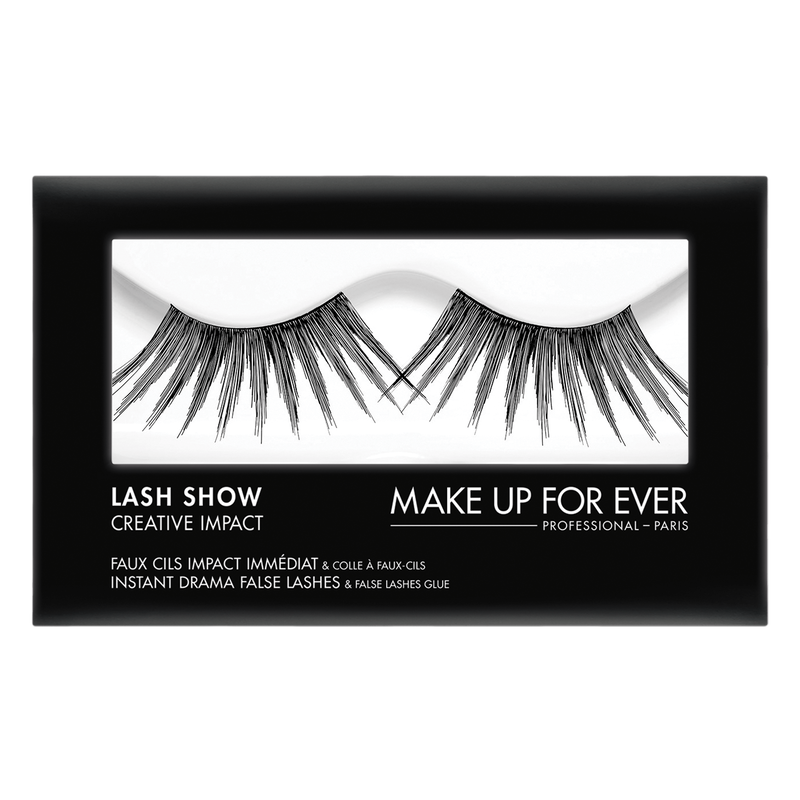 Instant Drama False Lashes & False Lashes Glue - Creative Impact
Handmade false lashes with Creative Impact.
Description

Ingredients

How to use it

Inspiration
Create your own Lash Show with the ultimate eye accessory: add length, volume and impact to every look. These pro-inspired handmade lashes are created in synthetic fibers for optimal comfort, with a super-slim flexible base.

The CREATIVE IMPACT range features lashes for special occasions and dramatic impact. These bold, daring, extravagant lashes let you express your individual creativity and style.

The glue* and precision applicator make it easy and mistake-proof.
*provided inside the false lashes box
1. Apply a thin layer of mascara to your eyelashes to lengthen, curl them and make it easier to apply FALSE eyelashes.
2. Carefully remove the FALSE eyelashes from their box and soften them.
3. Check that the size of the FALSE eyelashes match the size of your eyes; if they are too long, carefully cut at the outer corner.
4. Apply FALSE-Lash Glue to the base and feel free to put a little more on the inner and outer corners.
5. Let the glue dry for a few seconds so that it thickens and adheres better to the eyelid.
6. Glue the FALSE eyelashes on the base of your natural eyelashes, starting at the center of your eyes.
7. Use the high precision applicator to glue the inner corner and then the outer corner of the FALSE eyelashes.