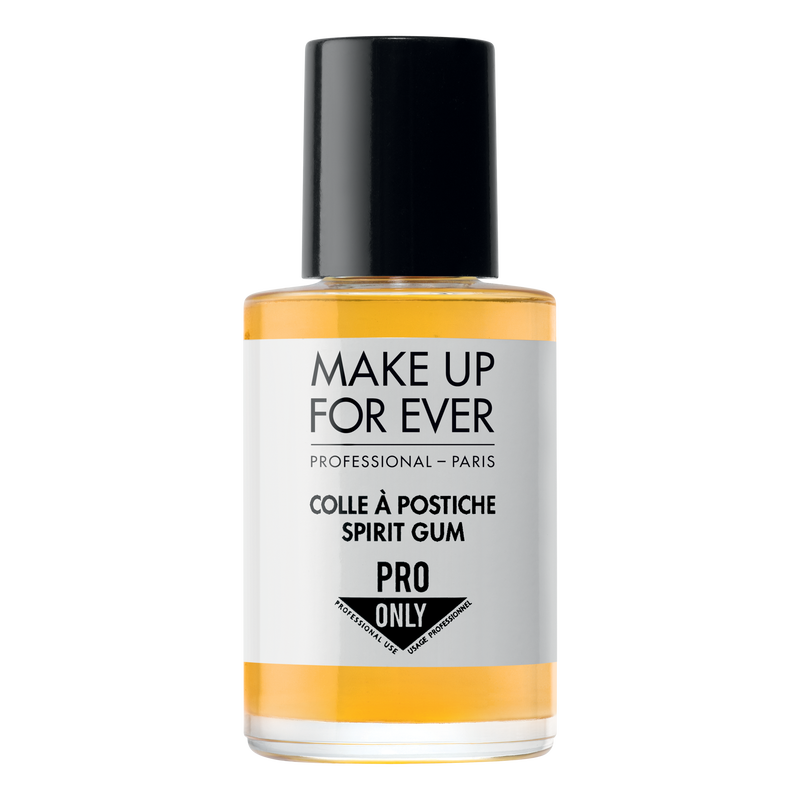 Used to adhere special effects such as appliances or hair.
Description

Ingredients

How to use it

Inspiration
This matte liquid glue can easily be applied precisely using its brush applicator. It is used to apply hairpieces (beards, mustaches, whiskers and sideburns, crepe wool hair), bald caps, prosthetics, a variety of special effects (Plasto Wax, other waxes, etc.) and all kinds of lightweight ornaments (feathers, lace, gold leaf, etc.). It holds for several hours, resisting heat and water, and is used as a plasticizer applied over certain products to increase their stability (Plasto Wax, eyebrow covers, etc.). It generally does not irritate the skin but should be tested on sensitive skin before use.
Clean the skin before application with alcohol or toner containing alcohol to improve adherence. Dust powder on any make up before applying the hairpiece. Apply the glue using its brush applicator, either to the hairpiece or directly on the skin. Wait a few seconds for the glue to solidify before setting the hairpiece, prosthesis or bald cap to improve adherence. Since it is highly adhesive, only a small amount of Spirit Gum is necessary. Applying too much glue could result in a plastic coat that is visible to the camera. Although the glue is matte, wipe the edge of the hairpiece, prosthesis or bald cap, once set, with moistened cotton or a soft cloth to eliminate any shine that could be visible on camera. To remove hairpieces, prosthetics or bald caps from the skin, gradually dissolve the glue between the edge and the skin using a cotton bud or a wooden stick (rolled in cotton) dipped in adhesive remover. To maintain hairpieces, prosthetics and bald caps, carefully clean the areas in contact with the glue using the Gum Off Adhesive remover. Remove the glue on the skin with cotton dipped in Gum Off and then apply a skin-softening cream.
Avoid the inner edge of the eye. Do not apply to open wounds or problem or irritated skin. In the event of stinging, irritation or allergy, remove the glue immediately using Gum Off, rinse thoroughly, especially the eyes, and apply the appropriate medical product.
Do not swallow and keep out of reach of children.
Test the glue on the skin before use. Clean the neck of the bottle with the Gum Off before closing it so that the glue does not dry, sealing the bottle permanently. However, if this should occur, soak the bottle in very hot water.