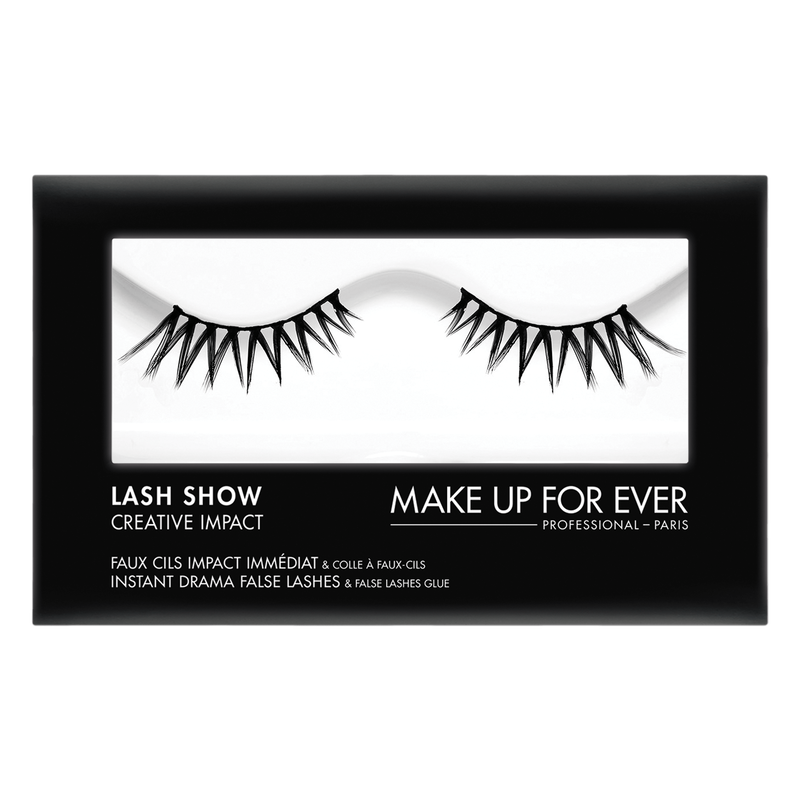 Instant Drama False Lashes & False Lashes Glue - Creative Impact
Handmade false lashes with Creative Impact.
Description

Ingredients

How to use it

Inspiration
Create your own Lash Show with the ultimate eye accessory: add length, volume and impact to every look. These pro-inspired handmade lashes are created in synthetic fibers for optimal comfort, with a super-slim flexible base.The CREATIVE IMPACT range features lashes for special occasions and dramatic impact. These bold, daring, extravagant lashes let you express your individual creativity and style.
The glue* and precision applicator make it easy and mistake-proof.
1. Appliquez une fine couche de mascara sur vos cils pour les rallonger, les recourber et faciliter la pose de FALSE-cils.
2. Retirez délicatement les FALSE-cils de leur boite et les assouplir.
3. Vérifiez que la taille des FALSE-cils correspondent à la taille de vos yeux; si ils sont trop longs, coupez délicatement au niveau du coin externe.
4. Appliquez la colle à FALSE-cils sur la base et n'hésitez pas à en mettre un peu plus sur les coins internes et externes.
5. Laissez sécher le colle quelques secondes afin qu'elle s'épaississe et adhère mieux à la paupière.
6. Collez les FALSE-cils sur la base de vos cils naturels, en commencant par le centre de vos yeux.
7. Utilisez l'applicateur haute précision pour coller le coin interne puis le coin externe des FALSE-cils.